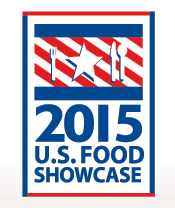 We are pleased to announce that the U.S. Food Showcase will be held, once again, in conjunction with FMI Connect June 9 – 11, 2015, McCormick Place Chicago, IL.
FMI is a nonprofit association that conducts programs in research, education, industry relations and public affairs on behalf of 1,500 member-retailers and wholesalers, with customers in the U.S. and around the world. Through sponsorship of the U.S. Food Showcase, NASDA and FAS focus on increasing U.S. food and beverage exports. They strive to create a reasonably priced trade environment for small and medium-sized companies interested in entering export markets or expanding their existing export markets. This partnership results in a worldwide audience of qualified buyers who seek U.S. food products and attend the U.S. Food Showcase prepared to purchase.
People love food. People want options. Satisfy the world's hunger for new products at the U.S. Food Showcase. We have gained a reputation for featuring innovative, trendsetting products and attracting power buyers from around the world.
The U.S. Food Showcase attracts buyers from every major market featuring exciting new products for virtually every category. Reach out to an array of opportunities – from supermarkets and convenience stores to restaurants and food service companies to specialty shops and much more. Whether it's beverages, health foods, canned goods, dairy products, meats or snack foods, buyers will feed on it all at the 2015 U.S. Food Showcase.